June 17th, 2009 by LG Blog UK
A couple of our bloggers were able to get their mitts on the new LG LF7700 LCD with built-in FreeSat, I thought I'd take a look at their findings..
RegHardware gave it a stand up 80%:
The moment you switch over to BBC HD, everything seems to snap into focus – colours are bolder and the increased level of detail is immediately obvious. Alex Kingston's frizzy hairdo in HD really is a sight to behold. The real test was to fire up some high-definition Blu-Ray and HD DVD films. The results here were extremely good – colours were bright and vivid, but not over-saturated, with Spiderman swinging smoothly between buildings.
(I'm going to be paying special attention to my hair for all future LG videos now!)
[…] this is 42in Full HD television that delivers good image and audio quality, along with a Freesat HD tuner and it can be found for less than £900 – certainly, pretty good value for money. So, if you're keen to explore Freesat in all its high-definition glory, the LG 42LF7700 is well worth considering.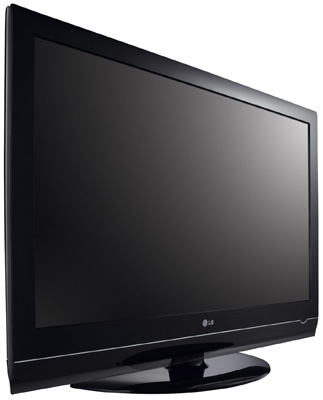 Coolest Gadgets UK is a fan too, citing the extras included as a real bonus as well as "excellent" contrast, "with blacks actually coming close to "proper" black":
Setup – what can I say? Plug in, attach aerial and let the TV do it's thing. All channels found and ordered automatically just like it should be.
A tabletop swivel stand is included in the package – hopefully this is becoming a standard feature but it wasn't that long ago when manufacturers expected you to pay extra for the stand.
Plug in a high-def source to the LF7700 and you really start to see what the 1080p panel can deliver. Crisp, fluid images with no sign of blocking or smearing really does make for a very compelling picture. If you're watching on Freesat you'll find yourself spending a lot of time on BBC HD, because once you've seen it you really won't want to go back… SkyHD images benefit similarly from the 1080p treatment – sports fans will not be disappointed!
For more information on the LF7700, or to see it in action, check out the official product videos:

You can find these and many more on our YouTube channel